Find Your Dream Home in Dubai with Kyna's AI-Powered Property Search
---


Personalized Results
An Intuitive Search Experience
---
Are you searching for the perfect property in Dubai? With thousands of options across this vibrant city, the process can be overwhelming. Introducing Kyna.ai, Dubai's first AI-powered property finder developed by Floges. Kyna combines smart technology and real estate expertise to match you with suitable properties in just a few clicks.
Based on your criteria, Kyna will instantly generate personalized results through our advanced AI algorithms. As you shortlist or reject properties, Kyna adapts to better understand your preferences.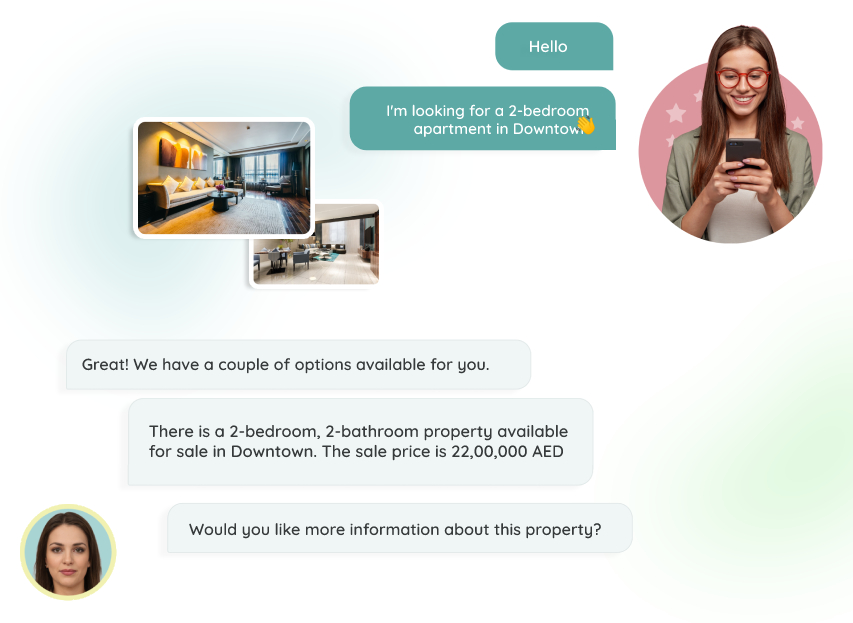 Innovation in Real Estate Industry
Powerful & Unique Features
---
Streamline your property search with Kyna's suite of powerful features:
Flexibility to Find Properties - Kyna provides an innovative and flexible way to find properties quickly.
Get Answers - Don't understand something about the Dubai real estate market? Ask our AI chatbot your questions and get clear, helpful explanations.
Contact Agents Directly - See an interesting listing? Message the agent right from their listing to learn more or schedule a viewing.
Estimate Future Value - Unsure if a property is a good investment? Our AI can analyze market trends to predict how its value may chang.e over time
Start Your Property Search With Kyna
An AI Assistant For Home & Commercial Buyers
---
Kyna becomes your personal AI assistant, learning as you search to refine results and recommend suitable off-market properties from our extensive database. Let Kyna's algorithms do the heavy lifting so you can focus on identifying your dream home.
Kyna combines comprehensive Dubai-wide listings with smart technology to make finding the perfect home faster and easier. Our AI-powered platform reduces legwork, so you can go from property search to homeowner with ease.
Ready to find your dream property in Dubai? Begin your personalized search today at kyna.ai!